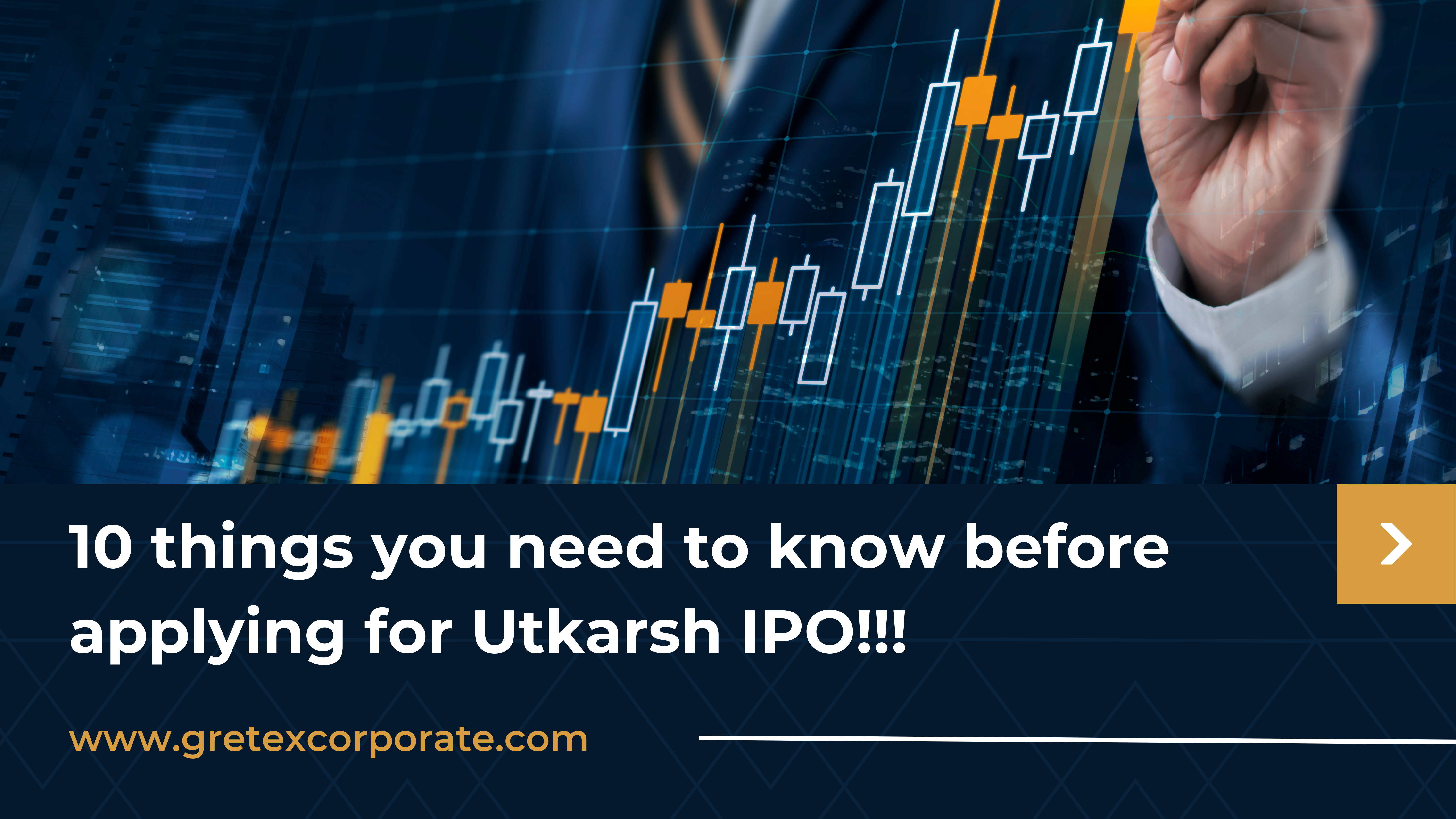 Utkarsh Small Finance Bank IPO -
Introduction :
Utkarsh Small Finance Bank is all set to make its debut in the capital market through an Initial Public Offering (IPO). This eagerly anticipated IPO has garnered attention as it marks the second IPO launch this month after Senco Gold. With the IPO opening on July 12 and closing on July 14, let's delve into the key aspects that investors need to know about this maiden public issue.
 
IPO Dates :
Mark your calendars! The Utkarsh Small Finance Bank IPO will be open for subscription from July 12 to July 14. Before that, on July 11, the anchor book was opened exclusively for qualified institutional buyers.
 
Price Band :
Utkarsh Small Finance Bank has set the price band for its IPO shares at Rs 23-25 per share, providing potential investors with a range to consider.
Issue Size :
The bank aims to raise Rs 500 crore from its IPO, which consists solely of a fresh issue of shares. This offering will enable Utkarsh Small Finance Bank to strengthen its Tier-1 capital base and fulfill its future capital requirements, in addition to covering issue expenses.
 
Objectives of the Issue :
The net proceeds from the IPO will be utilized by Utkarsh Small Finance Bank to augment its Tier-1 capital base, ensuring sufficient capital for future needs. Furthermore, these funds will help meet regulatory capital requirements and support the bank's growth plans.
Lot Size :
Investors can participate in the Utkarsh Small Finance Bank IPO by bidding for a minimum of 600 equity shares and in multiples of 600 shares thereafter. For retail investors, this translates to a minimum investment of Rs 15,000 for one lot and a maximum investment of Rs 1.95 lakh for 13 lots. The allocation also caters to high-net-worth individuals, with varying investment limits based on their capital range.
Bank Profile :

Utkarsh Small Finance Bank has achieved remarkable growth in its gross loan portfolio, making it one of the fastest-growing small finance banks between FY19 and FY23, with a portfolio exceeding Rs 6,000 crore. As a promoter, Utkarsh CoreInvest started as an NBFC in FY10, focusing on microfinance activities in Uttar Pradesh and Bihar. After receiving approval from the RBI, Utkarsh CoreInvest established Utkarsh Small Finance Bank as a wholly-owned subsidiary in April 2016. With operations across 26 states and Union territories, the bank boasts 830 banking outlets and a dedicated workforce of 15,424 employees as of March 2023.

 
Promoters :
Utkarsh CoreInvest, formerly known as Utkarsh Micro Finance, holds an 84.75 percent stake in Utkarsh Small Finance Bank, making it the sole promoter. Public shareholders, including Olympus ACF Pte Limited, Bharti AXA Life Insurance Company, Triodos Sicav II – Triodos Microfinance Fund, and more, collectively hold the remaining shareholding. The bank is led by experienced professionals, including Managing Director and CEO Govind Singh, Chairman Parveen Kumar Gupta, Company Secretary and Compliance Officer Muthiah Ganapathy, and CFO Sarjukumar Pravin Simaria. Utkarsh CoreInvest is backed by a group of renowned institutional investors.
Financials :
Utkarsh Small Finance Bank has reported robust financial performance, with deposits growing by 36 percent to Rs 13,710 crore in FY23. Disbursements increased by 37.5 percent to Rs 12,443 crore, and the gross loan portfolio rose by 31.3 percent to Rs 13,957 crore during the same period. The bank witnessed a surge in profit, with a remarkable 558 percent growth to Rs 404.5 crore. Net interest income spiked by 44 percent to Rs 1,529 crore, and asset quality improved, resulting in a decline in gross non-performing assets.
Risks and Concerns :
While considering investment opportunities, it is important to evaluate the risks involved. Utkarsh Small Finance Bank faces potential risks such as regulatory inspections, concentration of advances in specific regions, dependency on key managerial personnel, weaknesses in internal control systems, and insurance coverage limitations. Investors should be aware of these factors when making their investment decisions.
Listing and Allotment Dates :
The final basis of allotment for IPO shares is set to be finalized by July 19. Successful investors will receive their allocated shares in their demat accounts by July 21. Refunds for unsuccessful investors will be credited to their bank accounts by July 20. The highly anticipated listing on the BSE and NSE is scheduled for July 24, generating considerable buzz in the grey market.
Conclusion :
The Utkarsh Small Finance Bank IPO presents a significant opportunity for investors to become part of a bank that focuses on serving underbanked segments. With strong financials and a robust growth trajectory, the bank has attracted the attention of both institutional and retail investors. However, it is crucial for investors to conduct thorough research and seek expert advice before making any investment decisions
.
Disclaimer: The opinions expressed in this article are solely for informational purposes and should not be considered as financial advice. Investors are advised to consult with certified experts before making any investment decisions.