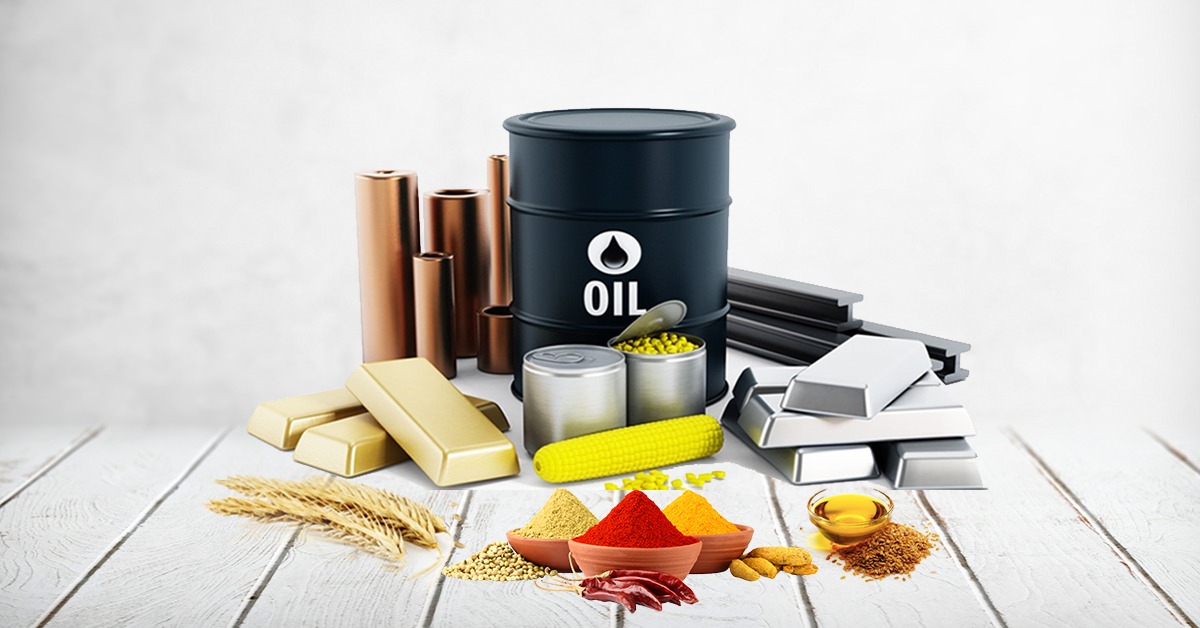 Commodities Market of India
What if the money in your pocket no longer holds any value? The Commodities market has never been more important & useful, given the current scenario of the Russia-Ukraine war impacting the global equity markets heavily. Consequences of the war have been notably seen in surging oil prices and higher inflation rates.
This brings one significant question to any non-trader or beginner- What is a Commodity Market?
In common terms, just like an equity or a share market where investors put their hard-earned money into stocks, in return for higher profits, there is a marketplace for commodities as well which can be traded online.
What is a Commodity Market?
The Commodities Market is a common place where materials like gold, oil, silver, copper, etc. are bought & sold easily, subject to changes in daily market price and demand.
With the recent pandemic & lock down, millions of people all around the world have started learning and trading in the stock market. While many non-traders are aware of the fact that few metals and oil can be traded, there is a whole world established for easy & quick commodity trading, not to forget the higher risks involved, which massively influence the lives of many investors.
Hold on! Did you know that we can trade cereals too?
What are the different types of Commodities?
There are mainly 3 categories of commodities that are traded-
Metals- Gold, Silver, Copper, Nickel, Zinc, Aluminum, Lead, Brass.
Energy- Natural Gas, Crude Oil.
Agriculture- Degummed soy oil, black pepper, cotton, rubber, mentha oil, crude palm oil, wheat, coffee, spices, sugar, bajra, chana, fiber, oilseeds, etc.
Among metals, gold and silver are considered to be in the bullion category, forming a major attraction in the commodities market.
What are the different types of Commodities Market?
The Commodities market is of two types-
Spot Market- Market where commodities can be purchased "on the spot" for instant physical delivery.
Derivatives-Market where commodities are bought or sold at a pre-determined price. It basically comprises what you usually hear- Futures and Options. 
Who are the Regulators of the Indian Commodities Market?
SEBI (Securities and Exchange Board of India), the main body, and FMC (Forwards Market Commission), a division under SEBI regulate the commodity & futures market of India.
Important National Exchanges of India are –
Multi Commodity Exchange (MCX)
Indian Commodity Exchange (ICEX)
National Commodity and Derivatives Exchange (NCDEX)
National Multi Commodity Exchange (NMCE)
Commodities trading definitely gives you higher profits, however, we cannot overlook the higher risks involved. You might be thinking that if there are high risks, why don't we just go for equity investment?
Commodities Trading act as a Saviour in times like these when the world is still recovering from the impact of the Global Pandemic and digesting the Russia-Ukraine War scenario. When equity markets are down and currencies gain Achilles heel, commodities markets often perform their best and come to the rescue of traders and investors.
"Great things never came from comfort zones" ~ Ben Francia
Gretex Corporate Services Limited is a SEBI Registered Category I Merchant Banker and awarded by the Bombay Stock Exchange (BSE) as a Top Volume Performer for SME IPO in India in FY 2017-18 and FY 2020-21. We provide a host of Financial and Consultancy services like IPO, Valuation, Private Equity, M&A, Angel Funding, and many more.
Visit our service portfolio to gain insight into a host of diverse financial services that we offer. To know more about your company's financial worth or any other financial services across PAN India,
CONTACT US at-
Email: info@gretexgroup.com 
Website: www.gretexcorporate.com