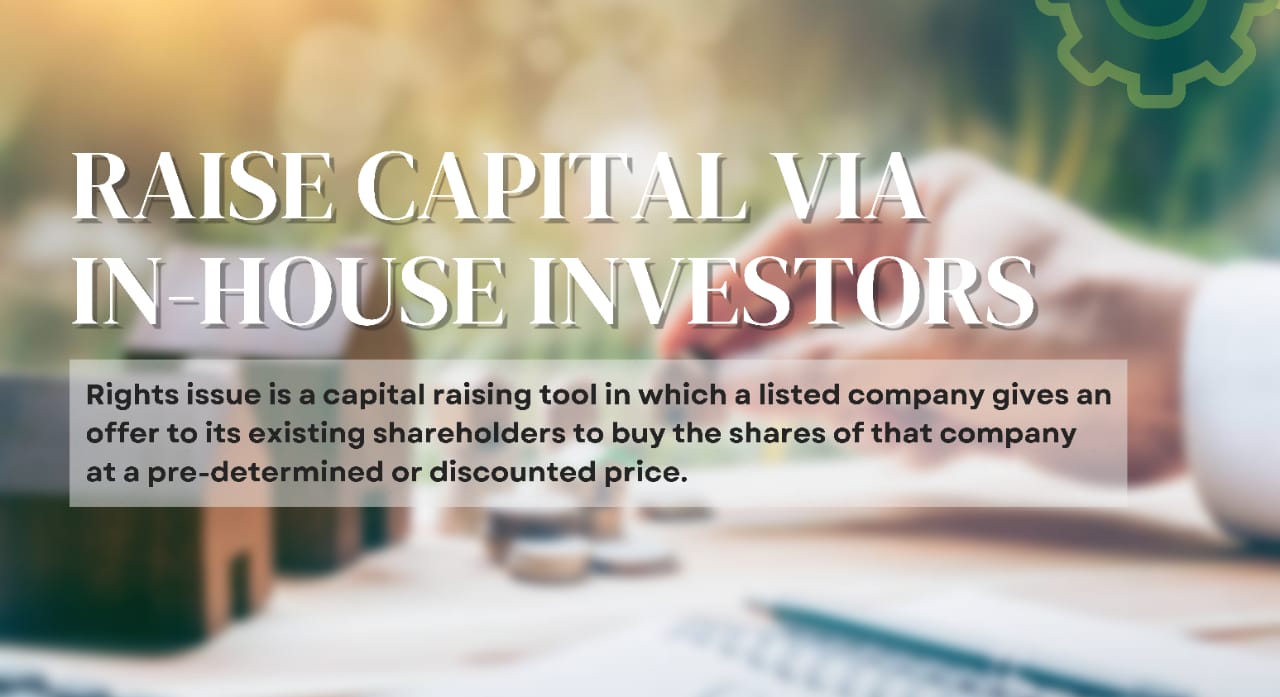 Raise Capital Via In-House Investors
Imagine- you are the owner of 35% equity stake of an XYZ company. To achieve its financial objectives, your company decides to raise funds from new investors. Will you be worried that your stake in the company will go down? Definitely.
What if the company instead of giving shares to new investors, gives you an offer to buy its shares at a discounted price? If you had enough capital to invest in this company again, would you grab this opportunity? Why not! The same thought applies in Rights Issue.
What is Rights Issue?
Rights issue is a capital raising tool in which a listed company gives an offer to its existing shareholders to buy the shares of that company at a pre-determined or discounted price. To state simply, the current shareholders of XYZ can gain more equity stake by buying shares at a price even lower than the market rate, if they choose to exercise the rights. 
A company chooses the path of rights issue for many reasons. Few significant reasons being debt reduction and expansion. While a rights issue helps a company gather funds in a shorter period of time, it attracts more attention due to its facility to issue shares without diluting the equity. Dilution of equity gives way to lesser ownership stake of the shareholders in that company, thereby losing their control over its management decisions. Hence, Rights Issue are mostly welcomed by shareholders, especially if the company performs extraordinarily well or has a potential to climb the ladder of success. This process is more like planting trees in an available area, at your home garden, without worrying about space constraints. 
Numerous listed companies in India from diverse fields are increasingly choosing rights issue as their pathway of capital raising. In 2021, The Indian Hotels Company Limited, South Asia's largest hospitality company, which manages a host of resorts, hotels, palaces, etc. offered Rights Issue during November-December of the same year. The issue size amounted to Rs. 1982.10 crores with an issue price of Rs. 150 per share. The majority portion of proceeds was reserved for debt repayment which is one of the significant reasons behind companies preferring rights issue as a capital raising tool. Many other companies like Reliance (which concluded to be India's largest ever Rights Issue amounting to Rs. 53,125 crore) Bharti Airtel (amounting to Rs. 20,987.39 crores), etc. chose the way of Rights Issue to raise more funds as a listed company.
Why Gretex?
Gretex Corporate Services Limited drives the entire Rights Issue process by making strategies, preparing documents, handling the compliances with legal formalities, along with getting approval from the Stock Exchanges. Gretex is a SEBI Registered Category I Merchant Banker and awarded by the Bombay Stock Exchange (BSE) as a Top Volume Performer for SME IPO in India in FY 2017-18 and FY 2020-21. We provide a host of Financial and Consultancy services like IPO, Valuation, Private Equity, M&A, Angel Funding, and many more.
Visit our service portfolio to gain insight into a host of diverse financial services that we offer. To know more about Rights Issue or your company's financial worth or any other financial services across PAN India,
CONTACT US at-
Email: info@gretexgroup.com 
Website: www.gretexcorporate.com